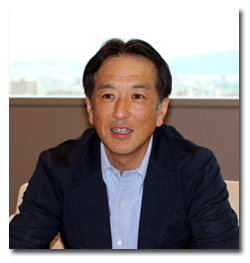 Hello and welcome to our website. My name is Tetsuro Fujita, President and CEO of Nippon Paint (USA) Inc. (NP-USA). NP-USA is a wholly-owned subsidiary of Nippon Paint Holdings Co., Ltd. (NPHD) and the parent company of three U.S. manufacturers of paint and coatings, NPA Coatings Inc.(NPAC), NB Coatings, Inc. (NBCi), and Dunn-Edwards Corporation (DE), collectively the NP-USA Group.
As President and CEO of NP-USA, it is my mission to enhance Nippon Paint's position in the Americas and maximize its value by facilitating the successful achievement of the goals of the NP-USA Group companies. In doing so, it is my vision that the Nippon Paint name will be recognized as a leader in innovative paint and coatings technology throughout the Americas.
The NP-USA Group manufactures and/or distributes high quality automotive paints and coatings, architectural paints and coatings, industrial coatings, fine chemicals and other products to some of the largest and most successful companies in the world - many of whom are leaders in their fields. We are proud of our superior technology, high quality, innovative products and our on-going commitment to preserving the environment. We will continue to work hard to satisfy our customers' needs, be a good corporate citizen and provide the best value to our shareholder. As we move forward we will also seek to expand our commitment to developing more environmentally-friendly technologies such as our highly successful waterborne paint technologies.
Finally, no company can be successful without the strong commitment and contributions of its valuable employees. I want to take this opportunity to thank all of our employees for their continued hard work and devotion to Nippon Paint.
Please enjoy perusing our website!
Sincerely,
Nippon Paint (USA) Inc.
Tetsuro Fujita
President & CEO